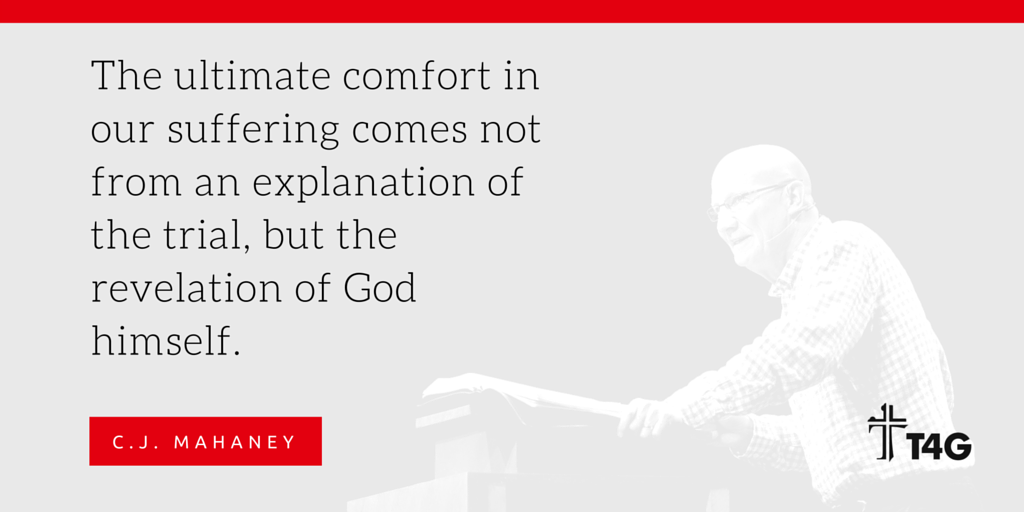 This is the second post in a series with my notes from the Together for the Gospel Conference (#T4G2016) that was held from April 12-14 in Louisville, KY. To see my other notes from the sermons at T4G, click here. 
Speaker: C.J. Mahaney                                      Key text: Job 3:1-4:8; Job 38-42
Listen to the full sermon: Audio || Video 
The Reformers were first and foremost pastors. They worked hard to prepare and equip their people for suffering. Personal suffering in the life of a pastor creates a pastoral pulse in his preaching. Don't despise suffering; think of it as sermon prep.
Three Components of Suffering in Job
Job's Lament (Job 3)
Job's suffering was sudden and severe. Job's example humbles us in our trivial trials. His initial response in Job 2 was definitely genuine, but it's not the whole story: the majority of the book of Job is filled with Job's lamenting and his friends' response to it. Job is 42 chapters for a reason! The book of Job, like grief, pain, and suffering, is a long, slow-paced journey. There is no quick fix for suffering. We must lead people to rejoice, but also to lament (especially in the context of rejoicing).
The poetic form of the book of Job helps us to understand and feel the gravity of Job's situation. The deepest question Job faces is: "Is God for me or against me?" This lies beneath the "why" questions of anyone who is suffering. The seeming silence of God during suffering is one of the hardest, darkest parts for the believer. People need their best theology in their darkest moments.
Job's Friends (Job 4:1-8)
Job's friends are perplexed at Job's "why" questions becuase they think the reason is obvious: it is a direct result of some sin he committed. They turn from being friends in mouring to accusing adversaries. Their "cause and effect" theology puts the blame for Job's suffering on Job's sin. Eliphaz accuses Job of not applying to himself the counsel he's given others (Job 4:2-7).
The friends' theology is summarized in Job 3:8: "T

hose who plow iniquity

 

and sow trouble reap the same." They are trying to defend the righteousness of God, but end up missing the whole character of God. They overestimate their grasp of truth, misapply that truth, misrepresent God, and mistrust Job.
We are prone to this same mistake. The church should seek to relieve suffering rather than intensify it by adding torment through misapplied truth. Man looks backward to try to find a causal effect of present suffering. The Bible looks forward to the hope of what suffering will produce: holiness. Suffering will either make you or break you, but it never leaves you the same. Where you turn your attention during suffering determines if the trial will make or break you. Job's friends had no category for innocent suffering. A Christian view of suffering keeps us looking forward to the hope of the gospel instead of backwards to the sins of the past. 
Job's God (Job 38-42)
Job 38-42 is the longest single recorded discourse of God in the entire Bible. God's words in this passage quieted and comforted Job and will do so for us. It is evidence of God's grace and mercy towards His people in the midst of suffering. Job's suffering wasn't the result of sin, but in his suffering, Job sinned by finding fault with God. Job needed his view of God widened and expanded in order that he might see the full extent of God's sovereignty. Job humbles himself despite God not answering his "why" questions. His "why" question was overwhelmed by his "who" question. He goes from hearing about God to seeing God.
The book of Job isn't fundamentally about suffering, but about God and who He is and how to worship Him. God has an inescapable purpose for everything He does, even if that purpose is never revealed to the one who is suffering. Job is spiritually cured by the revelation of who God is. That is enough to warm the heart on the darkest, coldest nights. When God allows us to suffer, He provides us with a greater, deeper knowledge of Himself.