Martyrdom and Mission: Why Reformers Died In Their Day, How We Must Live In Ours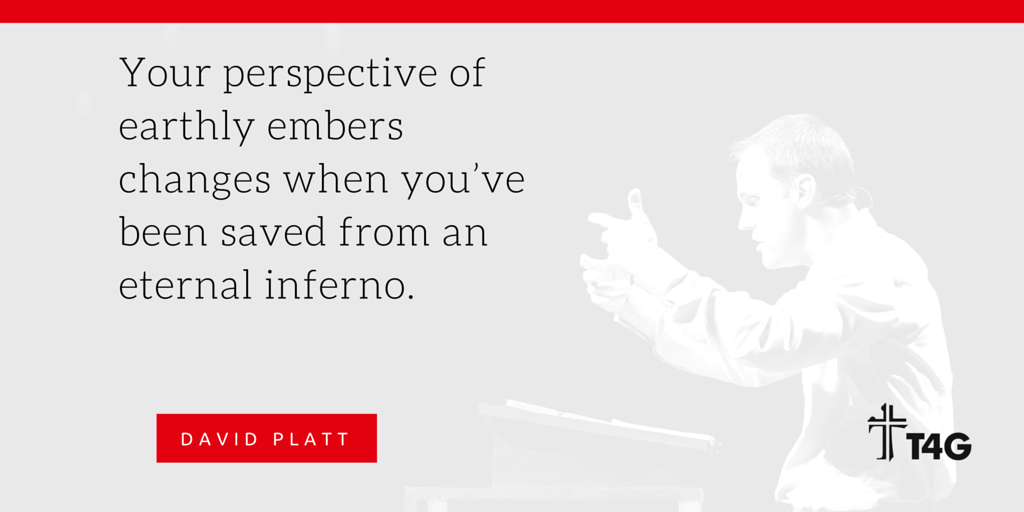 This is the tenth and final post in a series with my notes from the Together for the Gospel Conference (#T4G2016) that was held from April 12-14 in Louisville, KY. To see my other notes from the sermons at T4G, click here. 
Speaker: David Platt                                      Key text: Psalm 51
Listen to the full sermon: Audio || Video
The Reformers remind us that it is right to give our bodies to defend the Bible and the gospel. Even if we don't die, we mist give our lives to the same task. A theology of danger and martyrdom is not a prominent theme in our churches today. Our views of safety and security are far too often American and not biblical. 
Why did the martyrs die?
Psalm 51 was recited by many martyrs as they were marched to their deaths during the Reformation. Why Psalm 51? Here are three truths they believed found in the Psalm:
1. They believed their depravity was deserving of damnation (v 1-5, 9)
David, the author of Psalm 51, knew sin was not an a isolated incident for him–it controlled him from the moment of his birth. The worst consequence of sin is the realization that we have defied the holy God of the universe and are rightly deserving of eternal damnation. The martyrs didn't draw attention to the nobility of their death, but to the depths of their depravity. They knew they were guilty of sin and death was their due. Your perspective of earthly embers changes then you've been saved from an eternal inferno.
2. They believed their salvation was found solely in God's mercy separate from their merit (v 1-2, 7, 9-10, 12, 14-15)
David asks God to "unsin" him and to as as if he had never sinned at all. He asks God to do these things because he knows only God could do them. The martyrs of the Reformation died for believing that the Lord's Supper was not a means of merit. As Christians, we have hope not in our merit, but only in God's mercy. At the moment of salvation, everything that belongs to Christ, belongs to us (imputation).
3. They believed that love like God's was worth losing their lives to proclaim (v 12-15)
Washing from God leads to delight in God which leads to proclamation of God. The martyrs didn't die just because they believed and studied the gospel, but because they proclaimed it. Persecution only rises where proclamation abounds. If you want to stay safe, stay silent. The martyrs didn't just love the gospel, they loved people who needed the gospel. When you know the depth of God's love for sinners, you'll lose your life for their salvation.
How shall we live today?
1. Prioritize theological precision among God's people– There's a critical difference between looking to the Bible for permission and looking to it for direction. Nominal Christianity and lazy theology isn't what the nations need.
2. Mobilize for sacrificial mission among all peoples– We didn't receive the gospel so we could sit back and be comfortable; we received it for a reason: to be the ones who take it to all who are lost.
3. Live, lead, and long for the day when reformation will be consummation– One day the fires of martyrdom will be extinguished and God's will will be done on earth as it is in heaven. We know, and must live, as if this is not our home.
-Lawson
Learn It. Love It. Live It.
Notable Tweets
More from David Platt: My sermon notes from CrossCon 2013 || My sermon notes from T4G 2012 || Video from past T4Gs
[image credit: @t4gonline on Twitter]