The Reformation Began with Paul: Justification the Same Yesterday, Today, and Forevermore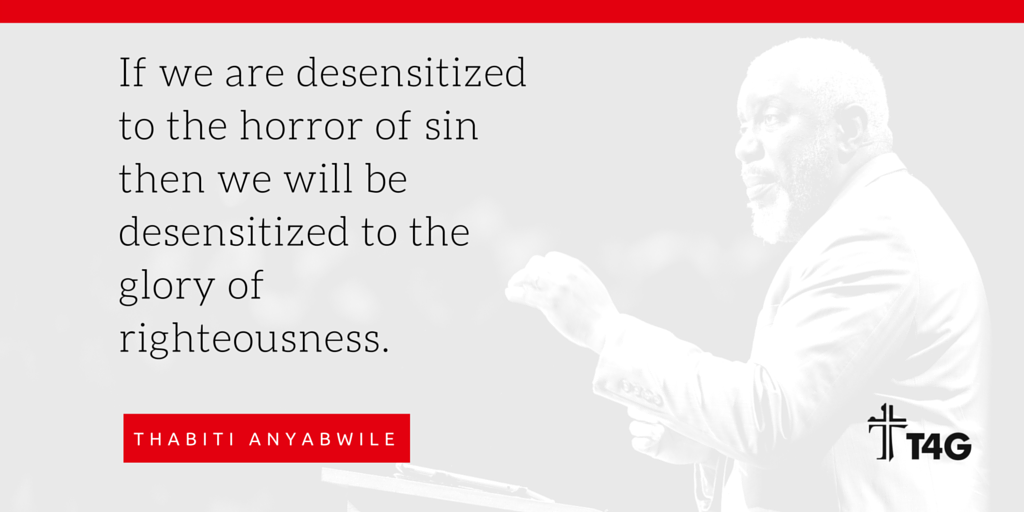 This is the ninth post in a series with my notes from the Together for the Gospel Conference (#T4G2016) that was held from April 12-14 in Louisville, KY. To see my other notes from the sermons at T4G, click here. 
Speaker: Thabiti Anyabwile                                     Key text: Romans 3:21-26
Listen to the full sermon: Audio || Video 
If we are genuinely Reformed it isn't because we're following the teachings of a certain group of men, but because we believe it to be what the Bible genuinely teaches. The doctrine of justification by grace alone through faith alone in Christ alone is not a Reformed doctrine (in that it began during the Reformation), but a biblical doctrine.
We ought to be able to demonstrate this through Scripture alone. For example in Romans 3, we see that God  justifies through faith in Jesus Christ (v 21-22) because man has fallen short of the glory of God (v 23-24) in order to display His own glory to the universe (v 25-26).
Five Truths About Righteousness: 
Righteousness comes apart from the Law (v 21)
Righteousness comes through the gospel not the Law (though it does agree with the Law). We naturally seek our own righteousness through the moral "do this/don't do that" of the Law, but righteousness can't be achieved according to the Law because it has been weakened by the flesh. The Law was never meant to justify us. The Law and Prophets agree that we need a different righteousness apart from the Law. When you read the Old Testament well, you are reading about a coming righteousness that is apart from the Law. Gospel righteousness is above the Law and the fulfillment of it in Christ's perfect obedience.
Righteousness with God comes through faith in Jesus Christ (v 22)
Jesus is the means, object, and channel of the new reightousness. "Faith is trusting with a friendly heart." -Lemuel Haynes. There is only one object of faith that brings Jesus's righteousness from God. Not every "Jesus" is a saving Jesus–the secular, Islamic, Hindu, spirit-brother, "good teacher", "wise sage", etc "Jesus" can't save you. Only the Jesus that offers Himself as the perfect substitute and sacrifice can save you. This Jesus doesn't benefit everyone–only those who believe in Him. No believer lacks righteousness and no unbeliever has righteousness.
Righteousness comes as a gift of grace (v 22-25)
There is no distinction between any human begin because we are all alike: we have all fallen short of the glory of God by sinning. Justification isn't universal but sin is. The world likes to twist it to make you think the opposite. This universal condemnation is why the world needs the gospel. Just because its universal doesn't mean its insignificant. We must not treat sin lightly. If we are desensitized to the horror of sin, we will also be desensitized to the glory of righteousness. One bite of the forbidden fruit plunged the whole earth into ruin for all time. Only Jesus buys slaves (from sin) and makes them heirs (of righteousness). This righteousness was borne witness to by the entire Old Testament (Romans 4:1-5:21; Galatians 3:8).
Righteousness accounts for sins unpunished (v 25)
God justifies sinners in this way to display His own righteousness. God saves in a manner that is both just and merciful. His justice is achieved through His mercies. The cross will always be a symbol of God's punishment of sin–either in Christ Jesus or in the unrepentant sinner. The cross proves God's forbearance, not His indifference. It is a sign of His inflexible righteousness. God has appointed a day when his forbearance shall end and his divine judgment on the impenitent shall begin.
Righteousness proves that God is just (v 26)
God's justice is terrifying to the sinner and comforting to the saved. The righteousness we have before God comes from God and is for God. Therefore our certainty lies with God. What assures a person more than to see the Son of God sent by the Father to see us safely home?
-Lawson
Learn It. Love It. Live It.
Notable Tweets
More from Thabiti Anyabwile: My sermon notes from CrossCon 2013 || My sermon notes from T4G 2012 || Video from past T4Gs
[image credit: @t4gonline on Twitter]