God's Glory as the Base of our Courage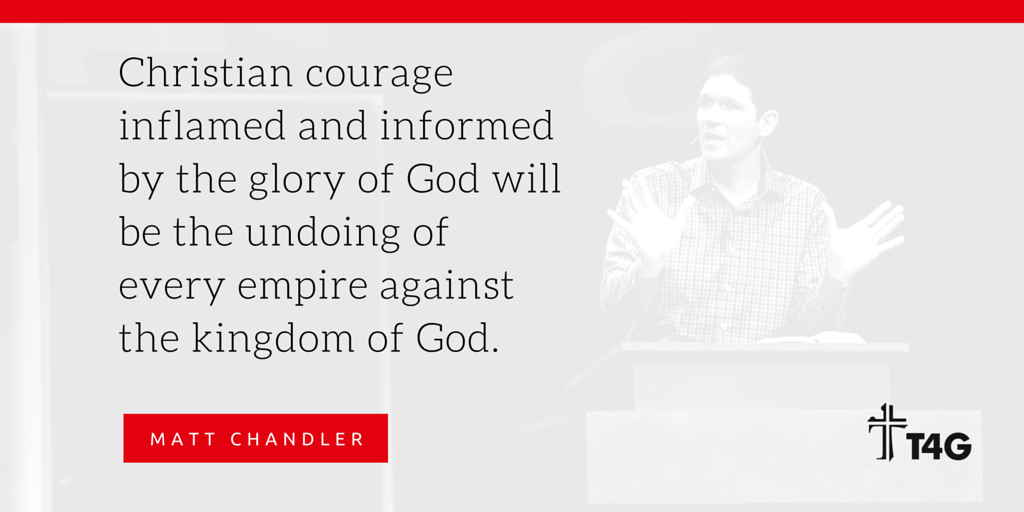 This is the eighth post in a series with my notes from the Together for the Gospel Conference (#T4G2016) that was held from April 12-14 in Louisville, KY. To see my other notes from the sermons at T4G, click here. 
Speaker: Matt Chandler                                    Key text: Romans 11:33-36
Listen to the full sermon: Audio || Video 
Those who persecute the faithful think they are serving the cause of justice. As hostility towards Christians increases, we lose the opportunity to explain ourselves. We are automatically characterized as something we are not and this causes us fear. Romans 11 provides a blueprint for increasing courage in our hearts and the hearts of others. Thin portraits of God won't sustain us like a big, deep theology of God.
Not only is God big, but He is rich: He owns everything in the heavens and the earth. He is no stifled by a lack of resources. This encourages us because we are His sons and daughters. He has our back (Romans 8:31-39)! We are heirs of God and co-heirs with Christ. This has tremendous implications for our courage. Having Christ as our inheritance gives us courage because it helps us put the sufferings of this age in the context of eternity. Everything now will seem worthless and small. We realize there is nothing that man can do to us. Even if we die, we gain eternity with Christ. 
If we don't emphasize the breadth, depth, and width of God, we do others a huge disservice. It is astonishing to consider what God knows that we don't. This not only humbles us, but gives us courage: He knows and controls all that happens. Nothing surprises Him. Nothing comes into our lives that has not been allowed by His hands. We can do nothing to put God in our debt and He owes us nothing. The fear of the Lord produces courage that a small, weak view of God never will. He is strong, fierce, and victorious. His sovereign reign will accomplish His sovereign purposes.
Romans 11:36 is the message of the Bible. Despite all the persecution the people of God have faced throughout the centuries, we win and will triumph in the end. Christian courage informed and inflamed by the Word of God will be the undoing of every empire except the kingdom of God. See persecution and death as yet another opportunity to make much of the power and glory of God.
-Lawson
Learn It. Love It. Live It.
Notable Tweets
More from Matt Chandler: My sermon notes from CrossCon 2013 || My sermon notes from T4G 2012 || Video from past T4Gs
[image credit: @t4gonline on Twitter]