Christ's Call to Reformation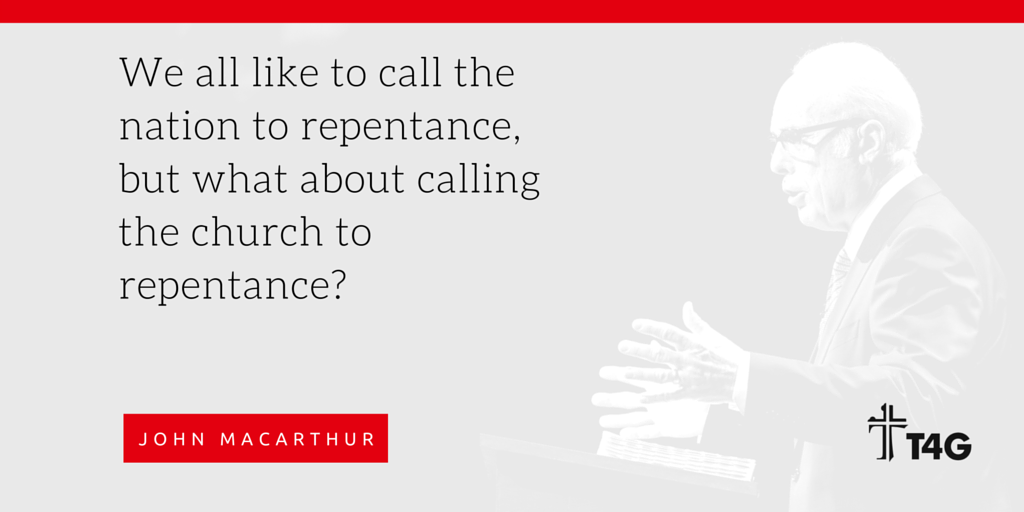 This is the seventh post in a series with my notes from the Together for the Gospel Conference (#T4G2016) that was held from April 12-14 in Louisville, KY. To see my other notes from the sermons at T4G, click here. 
Speaker: John MacArthur                                     Key text: Revelation 2-3
Listen to the full sermon: Audio || Video
Have you ever heard of a church that repented for sins against its Head? Churches are rarely broken over their collective sins and cry out in repentance. Revelation isn't written to the hating world, but to the churches (Revelation 1:4). When Revelation was written, paganism was in power, persecution was intensifying, and the church was struggling. Jesus and Paul both warned the church that this persecution and hardship would come (John 15:18-25; 1 Timothy 1:3-7; 2 Timothy 3:1-9). Revelation 2 and 3 are God's spiritual diagnosis of the church. Two churches (Smyrna and Philadelphia) are true churches in good standing before God, but five are in decline and need to repent. In those five churches, there was compromise, hypocrisy, sin, and greed. It's shocking that the church could decline so quickly after Jesus' ascension.  
There are still churches today that are proud of their openness to embracing sin. To churches like this, God offers a clear call to repentance. If they don't repent, God will judge and remove them. Judgment begins at the house of God (Ezekiel 9; 1 Peter 4:17). As Christians, we like to call the nation to repentance, but what about calling the church to repentance? For those that repent and overcome, promises are made. Promises of heaven don't remove the responsibility of a church or individual to repent. This is Christ's call for reformation in His church.
Two churches in Revelation 2-3–Smyrna and Philadelphia–don't need to repent. It is possible to be a part of a church that doesn't need to repent. All the churches in Revelation 2-3 are real churches, but are also representative of churches throughout the ages and up to today. There is a flow in the five churches that do need to repent: from a church comprised of all believers in Ephesus to a church with no believers in Laodicea. It is a pattern of churches being taken over by unbelievers. The false church is made up of hypocrites claiming to be believers, but living an unrepentantly sinful life.
How does the slide from true church to dead church start? We leave our first love–Jesus–in order to gain favor with the world (Revelation 2:4). Even with the best leaders and beginning, there is the possibility of losing the first love (the church at Ephesus being the prime example). Before we can call the nation to repent, the church must first repent.
-Lawson
Learn It. Love It. Live It.
Notable Tweets
More from John MacArthur: Video from past T4Gs
[image credit: @t4gonline on Twitter]