Can We Be Glorified Without Being Sanctified? Good Works, Good News, and Christian Assurance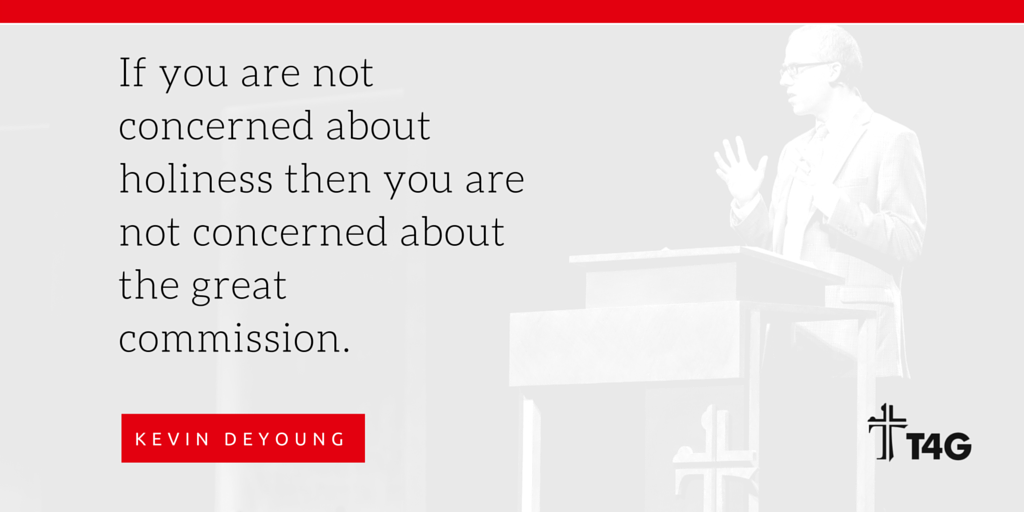 This is the fifth post in a series with my notes from the Together for the Gospel Conference (#T4G2016) that was held from April 12-14 in Louisville, KY. To see my other notes from the sermons at T4G, click here. 
Speaker: Kevin DeYoung                                   Key text: 1 John
Listen to the full sermon: Audio || Video 
Good works, good news, and Christian assurance aren't opposed to one another, but go together. Can we be glorified without being sanctified? No! If your life is habitually marked by sin, Christ calls you defiled and you are not on your way to heaven (Mark 7:21-23; 1 Corinthians 6:9-10; Galatians 5:17-21). We are in a dire situation if our life is marked by sin. Only those who conquer and overcome will escape the second death and eat from the tree of life (Revelation 2-3).
The authentic Christian life is filled with weakness, but not capitulation. Paul revels in his weakness, but never refer to is as a weakness or excuse to sin. To be a Christian, one who receives the reward, is to conquer and overcome sin. There is a close relationship in Scripture between sanctification and glorification (Romans 8:29-39; 1 Corinthians 6:11; Hebrews 12:14). Without sanctification, we can have no confidence of our justification. Works are the fruit; not the root of salvation. One of the hallmarks of theological liberalism is to not be concerned about the meaning of words–favoring slogans over precision.
"Grace is glory begun as glory is grace consummated." -Francis Turretin. Sanctification is the work of God to prepare us for the life and world to come. If we are to be glorified later, we will experience sanctification now.
Three Evidences We are on the Road to Eternal Life:
Love the Son–Theological (1 John 2:22; 4:2, 14; 5:10-11)
You should have confidence you are saved if you trust in Jesus.
Love His Commnads–Moral (1 John 1:8; 3:6, 24)
If you keep on sinning without repentance, you aren't saved.
Love His People–Social (1 John 3:14)
You have confidence if you love other Christians, especially in the context of the local church.
Three Common Objections to Sanctification as a Prerequisite to Glorification:
"We should never look to ourselves for assurance"
Answer (1 John 2:5; 3:10, 14, 16, 19; 4:2, 13; 5:2): Clearly we are meant to discern ("know") something about our own salvation (2 Corinthians 13:5-6). The emphasis is not on "why" we are saved but "how we know" we are saved. Assurance comes from believing the promises of salvation eternal working of the Holy Spirit and an inward sense of God's grace and its inward evidence.
"None of us really love God or neighbor"
Answer (1 John 2:15-17; 5:2): John isn't talking about hypothetical realities, but evident truths. The godlier you are, the less godly you feel. Assurance is a community project. We are not good judges of our own godliness. We are taught to disciple the nations that they might obey God's commandments. If you aren't concerned about holiness, you aren't concerned with the Great Commission. We are called to make disciples, not decisions.
"The believer's works can be truly good without being perfectly good." -Francis Turretin. We must point out areas where people are excelling in obedience and holiness instead of always dwelling on failure (Isaiah 64:5-6). Righteous deeds apart from the gospel are filthy rags; righteous deeds with the gospel are truly good. It is truly possible to live in a way that pleases God. Some have only learned to relate to God as Judge and not as Father. We need a category for sincere, good, and true works. It is not pride to believe that God has begun a good work in you.
"This makes me doubt my salvation"
Answer (1 John 1:4; 2:1, 12-13, 21): 1 John isn't written to make us doubt, but to give us assurance. God causes us to persevere by several means: exhortations, promises, and threats. These don't undermine assurance, they help accomplish it.
You can respond to the truth in Hebrews 12:14 ("without holiness no one will see the Lord") with apathy, hostility, or vitality–which will it be?
-Lawson
Learn It. Love It. Live It.
Notable Tweets
More from Kevin DeYoung: My sermon notes from CrossCon 2013 || My sermon notes from T4G 2012 || Video from past T4Gs
[image credit: @t4gonline on Twitter]