We Have Only One Priest: The Reformation as a Revolution in Ministry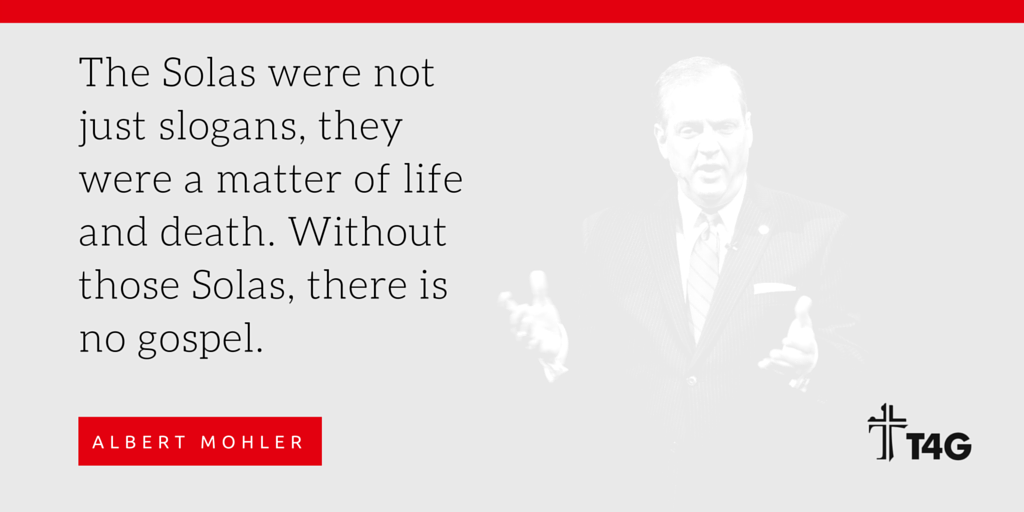 This is the third post in a series with my notes from the Together for the Gospel Conference (#T4G2016) that was held from April 12-14 in Louisville, KY. To see my other notes from the sermons at T4G, click here. 
Speaker: Albert Mohler                                    Key text: Colossians 1:13-29
Listen to the full sermon: Audio || Video 
The Christian church must always be in the business of reforming in order to preserve and protect the gospel. This reformation must take place according to and by the Word of God. The Five Solas define the gospel. For the Reformers, the Solas were not just slogans, they were a matter of life and death. Martin Luther viewed imputation as the main issue at stake in the Reformation. He said that Scripture is "the norm of norms that can't be normed." The Reformation began and ended with a crisis in ministry.
Five Key Themes of the Reformation: 
Kingdom (v 13-14)
Christians are delivered and transferred from one kingdom (sin) to another (righteousness) when they are saved.
Christ (v 15-22)
We don't need icons, because we have Christ–the image of the invisible God. He made substitutionary atonement by the blood of His cross. His imputed righteousness is our only hope for forgiveness, justification, and eternal life.
Gospel (v 23)
The true ministry of any Christian is gospel ministry. Justification by faith alone is that on which the gospel stands or falls.
Church (v 24-26)
The gospel and the church are inseperable. Preaching the gospel builds the church; building the church leads to further gospel proclamation.
Ministry (v 27-29)
The Christian is to make the gospel fully known. This is job that is never done. You can never retire from this ministry. The minister is to be a pastor, not a priest. Every believer is a priest (1 Peter 2:1-10). The priesthood is fulfilled in CHrist and only in Christ. It is sin to declare the priestly authority to offer what Christ already freely offers. The priestly and royal authority is Christ's; the prophetic authority of proclaiming the gospel is ours.
-Lawson
Learn It. Love It. Live It.
Notable Tweets
More from Al Mohler: My sermon notes from T4G 2012 || Video from past T4Gs
[image credit: @t4gonline on Twitter]