The Dude's Guide to Manhood [Book Review]
What does it mean to be a man?
While this question could be answered with a simple biological definition, manhood is much more complex than one's anatomy. True manhood expresses itself in the character, actions, and pursuits of a man.
However, our culture has a shortage of true men. So how did we get to this point?
In the introduction to his book The Dude's Guide to Manhood: Finding True Manliness in a World of Counterfeits, Darrin Patrick says the problem is that "many men are simply unprepared to face the journey of manhood, in part because they have never been prepared in the first place." Somewhere along the way, our culture misplaced the road map to manhood. Of course, many factors have contributed to this drift: the rise in divorces and single-parent homes, the removal of traditional rites of passage, and the attempt to remove traditional gender distinctives, just to name a few.
This lack of preparation for men has led to a culture filled with males stuck in a prolonged boyhood and adolescence: avoiding responsibility, lacking passion, and letting life pass them by as they escape in their careers, video games, sports, and/or porn. Or as Patrick puts it, "Many of us [men] avoid real life and escape into a psuedoreality that is more comfortable and less taxing than our own lives."
To address this problem, Darrin has thoughtfully outlined what true manliness looks like in The Dude's Guide to Manhood. Usually you shouldn't judge a book by it's cover, but when the cover looks like this one, you know it's going to be a winner! Darrin Patrick does a great job of discarding many of the stereotypes that other books on manhood cling to (outdoors, power tools, sports, etc) and defines what it means to be a man based on eleven character traits: determined, coachable, disciplined, working, content, devoted, family-focused, connected, emotional, fighting, and heroic. He goes on to practically flesh out what each trait looks like when it's lived out for both single and married men.
Throughout the pages of his book, Darrin Patrick is very open about his own story and path to manhood. He encourages men to not give up in pursuing a fulfilling and adventurous vision for masculinity, even when the deck is stacked against them. In fact at the beginning of the final chapter, Patrick says, "If you try to do everything this book suggests, you're going to get frustrated and tired….Change is hard….We return again and again to what seems familiar to us because it's known and comfortable, even if it's destructive."
In order to escape this destructive cycle and redeem our manhood, their is only one solution: repenting of our sin and trusting in Jesus Christ as our Lord and Savior. He is the only one who can guide us into true manhood. "True manhood doesn't mean being perfect ourselves; it means trusting Christ's perfection for us. True manhood doesn't mean getting everything right; it means having the courage to say when we get things wrong and the confidence that comes from receiving our acceptance from God in Christ." Being a real man isn't easy, but it's worth it.
The Dude's Guide to Manhood is a much-needed book in the quest to reclaim biblical manhood. It not only challenges men to be real men, but does so in an encouraging, fatherly way. If you are a man or know a man, pick up this book and give it a read (if you're a father, get this and go through it with your son). I will definitely be drawing on this book this semester as I lead the College and Career Ministry at Harvard Avenue Baptist through a study of biblical manhood and womanhood. Once you read this book, I'd suggest checking out Recovering Biblical Manhood and Womanhood, edited by John Piper and Wayne Grudem, and/or Foundations for Biblical Manhood and Womanhood, edited by Wayne Grudem, for more on the topic of true manhood.
Lawson's Rating: IV out of V
What are your thoughts on manhood in America today? Who are some men that have shaped your masculine journey? Share your stories in the comments below.
-Lawson
Learn It. Love It. Live It.
__________________________________________________________________________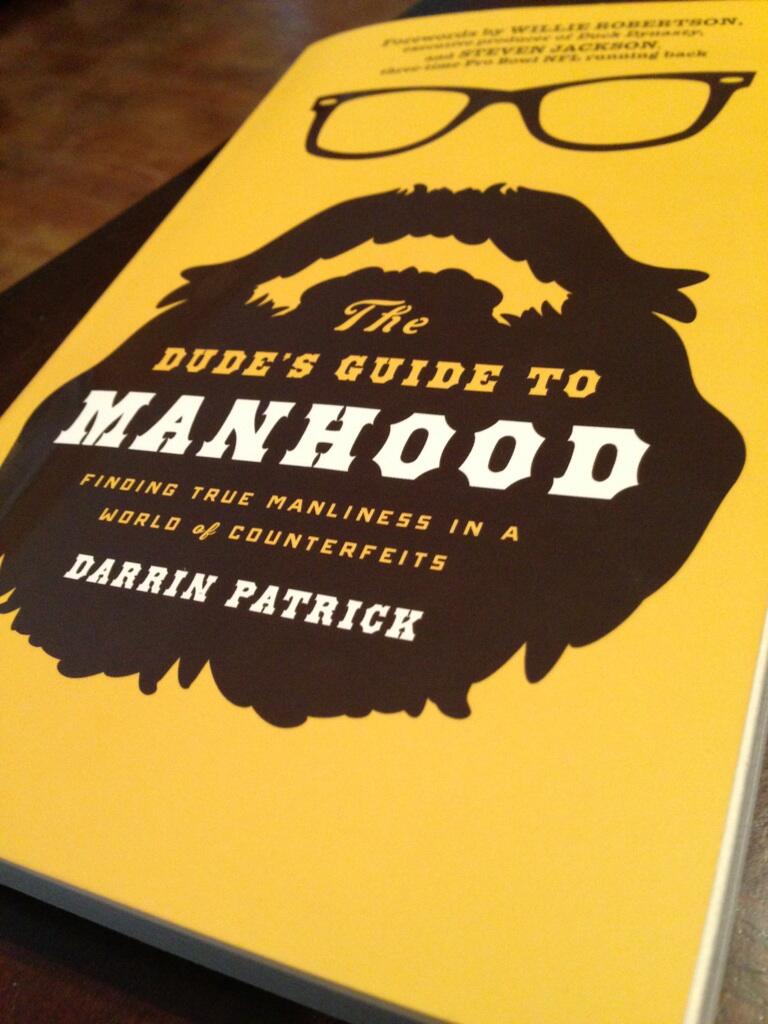 Notable Quotes from The Dude's Guide to Manhood
Introduction
"Many men are simply unprepared to face the journey of manhood, in part because they have never been prepared in the first place." xv
Chapter 1
"Many of us [men] avoid real life and escape into a psuedoreality that is more comfortable and less taxing than our own lives." 4
"Determined men refuse the nostalgia of the past or the speculation of the future. Instead, they embrace the present." 11
Chapter 2
"Learning is at the heart of being a man. Those who refuse to learn, who close off themselves from growth, cut themselves off from their own manhood….Learning takes a lot of time and challenges our assumptions." 26-27
Chapter 3
"Cultivating a disciplined life means doing what we don't want to do to give ourselves the freedom to do what we need to do." 30
"Discipline trains us in the art of focusing on our real needs instead of being obsessed with our felt needs. To be disciplined is to learn to say no to the quick fix in lieu of the better reward. " 33
Chapter 4
"A man's temptation is either to hate his job or love it too much- to demonize or idolize it." 45
"A truly free man knows the limits of his work. He is not free from work, but free to work well." 45
Chapter 5
"Contentment isn't automatic or inevitable. It won't simply happen when our circumstances change or if we reach our goals. Contentment must become a part of our character and woven throughout the fabric of our lives." 63
"The real test of manhood is whether a man can suffer while continuing to enjoy the good in and around his life." 69
Chapter 7
"Leading is one of the most difficult things to do in life. It's much easier to sit in the back and watch things unfold than jump on the moving train. When you follow, you can coast and you can criticize. When you follow, you can daydream about leadership. But when you lead, you stand in front and take responsibility for everyone else behind. You can't coast, complain, or fantasize if you want to lead well." 89
"When a man says he was wrong, he frees everyone else to be transparent about their weaknesses without fear of being judged. He establishes a culture of honesty, humility, and integrity." 92
Chapter 8
"Friends are willing not just to point out the bad fruit but to pull out the corrupt root." 104
"True manhood doesn't mean we are self-sufficient or that we can control our worlds. It means recognizing our limits and acknowledging our weaknesses, which frees us to serve and be served." 105
Chapter 9
"The goal of true manhood isn't being stoic and never feeling any pain. True men take their emotions and reform them. True men's emotions don't destroy them or the people they love; they are fuel for true virtue." 121
Chapter 10
"Striving for good character is the one battle that will always be worth fighting." 131
"You can tell a man's vision for his ideal life by how he spends his downtime and what he thinks about when his mind is free." 133
Chapter 11
"If there was ever a model for manhood, it's Jesus. The willingness to relentlessly and uncompromisingly pursue the good of those around him is unparalleled in human history. Jesus is the true man." 150
Chapter 12
"True manhood doesn't mean being perfect ourselves; it means trusting Christ's perfection for us. True manhood doesn't mean getting everything right; it means having the courage to say when we get things wrong and the confidence that comes from receiving our acceptance from God in Christ." 158-9
"When we meet Jesus, we realize that we don't have problems–we are the problem. It's we who are broken, and broken people can't fix themselves.." 159
Disclosure of Material Connection: I received this book free from the publisher through the BookSneeze.com® book review bloggers program. I was not required to write a positive review. The opinions I have expressed are my own. I am disclosing this in accordance with the Federal Trade Commission's 16 CFR, Part 255: "Guides Concerning the Use of Endorsements and Testimonials in Advertising."
More book reviews by Lawson:
—Jesus > Religion by Jefferson Bethke
—The Post-Church Christian by J. Paul and Carson Nyquist